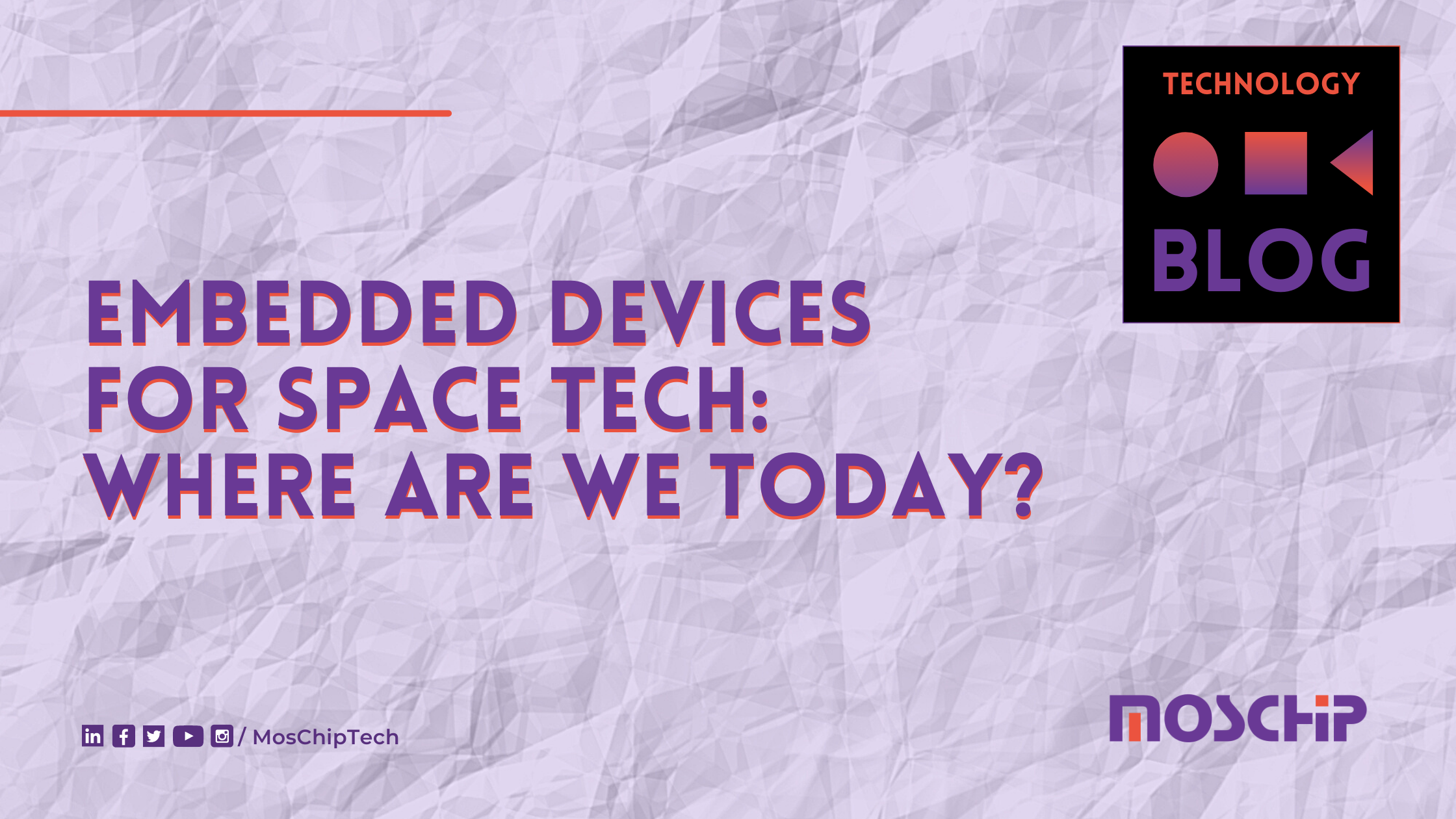 Embedded systems are all about maximizing efficiency and minimizing clutter. They've become indispensable in daily life, playing crucial roles in everything from finance to consumer experiences. While the average end user may find embedded systems intuitive and incredibly easy to use, the journey getting there is not quite so simple.

MosChip's years of expertise with embedded systems is proof enough that designing a good one isn't as easy as it looks. Issues like device life cycle, irregular security updates, and more can be difficult even in the simplest example. And when you think about bringing embedded systems into space, all of those disadvantages multiply.

So below, we've written a short catch-up on the state of embedded devices and systems for space tech, and where the technology is today.
A Backgrounder on Space Tech
It goes without saying that humans have always been fascinated with the unknown, and that fascination is never more apparent than with space exploration. Most powerful nations in the world have been involved in one way or another with space exploration, with the United States leading the pack.


India has had its fair share of space missions as well, with the Indian Space Research Organization (ISRO) counting over 200 missions for both spacecrafts and launchers combined. To date, two Indian astronauts have flown to space, with four more in training for future spaceflights.

All of this would not be possible without the tech to execute it. Space tech is infamously costly, with The Space Foundation reporting $447 billion in value for the global space economy in the first half of 2021 alone. This level of investment is necessary to ensure that personnel and equipment are safe from launch to landing, but it does present challenges.
The Scope of the Challenge
Space tech is particularly costly to develop because space itself is a challenging environment. According to NASA's 2010 paper on 'Space Technology Grand Challenges', the development of space projects are hindered by the extreme environment of space and the costs for developing and launching tech into that environment.

When developing embedded systems for space tech, issues like funding and hardware become even more apparent. While creating the software is hard enough, developers have the added difficulty of having to find approximations of space-qualified FPGA and other hardware. This, and updating the software alongside sourcing hardware, can be particularly challenging.

There's also the problem of public opinion. Most space projects are publically funded, but modern society tends to look at space as a futuristic problem, outside of the realm of normal human need or behavior. Though space exploration used to be exciting, there's been a slowdown in public interest across the world.
A New Era
The tides are shifting, however. As tech improves and becomes more accessible, more people are beginning to see the possibilities of space travel. Much of the interest around space centers on figures who are seen as aspirational, such as billionaires and tech celebrities.

Take entrepreneur and CEO of SpaceX, Elon Musk. The book 'Elon Musk: Tesla, SpaceX, and the Quest for a Fantastic Future' describes Musk as "a contemporary, visionary amalgam of legendary investors and industrialists including Thomas Edison, Henry Ford, Howard Hughes, and Steve Jobs."

Musk, alongside fellow billionaires like Jeff Bezos and Richard Branson, has a particular interest in space exploration. While these billionaires certainly might not have the training to push space tech further, they can stoke public interest and excitement, which only bodes well for funding space tech development.

Developing embedded systems anywhere can be a real challenge, let alone in the extreme conditions of outer space. However, they once said that putting a man on the moon was equally impossible. Although there are several challenges still to putting embedded devices in space tech, with better funding and interest those challenges may soon be overcome.

Innovation, excellence, and experience are all crucial to the development of space tech, and MosChip has all of that and more. With MosChip at the forefront of the semiconductor and system design industry, we envisage that a future in space may be closer than you think.
Conclusion
MosChip has the previlege to contribute to the space tech of India working for various projects with ISRO.
It is always an honour to contribute to the nation in any manner. MosChip is now, working on various Embedded Projects & here you can get more about it. – An article by Joy Anderson.
MosChip's Embedded Systems for Everyone.