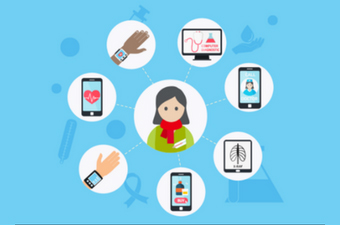 According to a latest report "IoT Healthcare Market by Components (Medical Device, System and Software, Service, and Connectivity Technology), Application (Telemedicine, Workflow Management, Connected Imaging, Medication Management), End-User – Global Forecast to 2020", the global Internet of things healthcare market is estimated to grow from USD 32.4 Billion in 2015 to USD 163.2 Billion by 2020, which is 403% in 5 years.
According to another report, the IoT healthcare market is expected to have a CAGR of 43.01% during the period of 2016-2022 with the main investments in the healthcare industry by governments and various stakeholders.
Here is the list of top areas where IoT applications in healthcare are implemented:
Medical devices like wearables, implanted medical devices, stationary devices.
Monitor health with remote device management, including data analytics, application and network security.
Application management tools for Telemedicine, Clinical Operations, Workflow Management, Inpatient Monitoring, and Medication Management.
Customized connected technologies, Wi-Fi, BLE, NFC, ZigBee, Cellular, and Satellite.
Hospitals, Surgical Centers, Clinics, Government and Defense Institutions, and Research and Diagnostics Labratories.
Managed services for system integration, maintenance, and support.